There is much interest in the business and professional community around the Neuroscience of Leadership. Here at CFOD, our interest on the latest discoveries in neuroscience is growing as we can use it in practical ways to get better results with our clients. In our search for the latest discoveries in neuroscience, we met Michelle Loch. Michelle is a neuroleadership consultant – an expert in the neuroscience of human behaviour, self-leadership and powerful conversation. She runs a foundational program called Rewire Your Brain which we highly recommend. Three levels This program is designed to give you a thorough knowledge based on three levels:
How humans are wired;
How you are wired; and
How to rewire.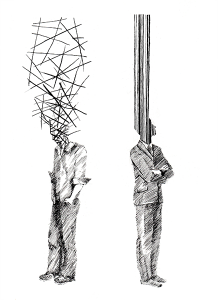 How humans are wired. Understanding how humans are wired will give you a new perspective on what might be challenging your clients – why they may be stuck or finding difficult to process or move forward. You will have the language to diagnose and educate your client around their 'brain' struggles in a very practical and scientific and articulate way. How you are wired. Understanding how you are wired is invaluable in terms of development as a leader and role model, and understanding how you may tend to 'get in the way' of assisting your client! PRISM brain mapping is a useful tool to use with your clients and this is an opportunity to check it out. There is an accreditation for PRISM Brain Mapping schedule for Melbourne in September and Brisbane in December.   How to rewire. Michelle has formulated a four-step process to 'rewire' your brain. This process will provide you with a way to help you and your clients to literally rewire your thinking patterns and habits. 'Rewire Your Brain' in Melbourne! So Michelle is bringing this program to Melbourne on October 13th. She will be teaching us:
How to diagnose the mental barriers your client has to achieving their success;
How to use easy-to-learn simple techniques to engage and influence your client; and
How to make sure that YOUR approach isn't getting in the way of helping your client to achieve success.
Register now and get a 10% discount! Michelle has kindly offered us a discount. Simply click on the link below and use the code CFOD to avail of the discount to either the full program or one-day workshop. You can also get a group discount if you register for 3 or more participants. http://www.eventbrite.com.au/o/michelle-loch-7428885715?s=41652809 Thank you. This is a great opportunity which we highly recommend. We thank Michelle for her generous discount offering to all our CFOD clients and friends. To know more about Michelle, click here to go to her website. So what are your waiting for? Click this link and start rewiring your brain. Don't forget to use the CFOD code to avail of the discount.