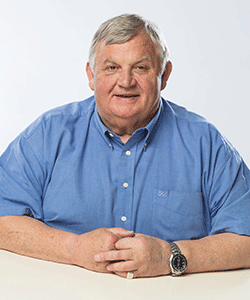 Mike's skills lie in the areas of leading, managing and developing people. He has a keen eye for the commercialisation of opportunities and thinks strategically. Mike's well-developed analytical skills have been applied in building and maintaining business relationships, as well as relationships in the educational and counselling fields. Mike has a high level of competency in coaching, counselling, public speaking, teaching and facilitating.
Mike's extensive business management and general management experience has given him a high level of understanding of the challenges and pressures faced by leaders in a turbulent and uncertain environment. Mike is one of those rare people who combine a passion for working with groups and individuals with a wealth of industry experience, including working in senior executive positions for a range of organisations both locally and overseas.
He has been the Director of Buying for a large retail outlet and CEO of an Australian/New Zealand subsidiary of a UK multi national.  He has also operated his own successful strategic planning and marketing consultancy, employing a large team of consultants. He now practices as an executive coaching mentor with over 4,000 hours of practice.
What Mike has realised as a result of his long experience in senior management roles is that the secret of success in implementation of strategy lies within the level of engagement and understanding of the people in the organisation.  He now practices as an executive coach and mentor in addition to facilitating teams across all levels in organisations.
As a trained therapist and experienced line manager Mike has the ability to work with people from a range of backgrounds and with a range of personal and professional development challenges. His coaching and mentoring clients include CEO's, senior and frontline managers in a variety of organisations.  In addition to his corporate work, Mike also works as a volunteer phone counsellor with the Men's Referral Service in Melbourne.
Mike has completed a Masters in Business Administration, a qualification that has informed him in the most current ideas and strategies of business theory and practice.
Mike is an experienced and qualified coach, who studied with Sydney University's Department of Psychology Coaching Unit.  Other formal qualifications include: a Graduate Certificate in Social Science, A Graduate Diploma in Family Therapy and a Master Practitioner in Neuro Linguistic Programming. He is also an accredited administrator of the Myers Briggs Type Indicator and the Enneagram, he is a qualified trainer.
This unique blend of theory and real life management experience gives Mike enormous credibility with people who find his approach engaging, effective and solution focused.